People. Processes. Products. While we see more value on things on the left, we also love things on the right.
In these past weeks at The Neon Project, we have finally come to a point with our framework that works for us. It consists of a set of meetings, conventions, and, yes, tools that are helping us to stay organized and on the same page so that everybody can then focus on making great things.
Growing the team is motivating us to become more organized and looking at comments in the first few retrospectives organization is bringing us happiness too.
---
We are a Google-based organization, although we use Microsoft O365 in some projects. We registered our domain with Google Domains, and have a Google Business account that manages all of our email addresses and cloud storage. This makes Gmail our obvious choice for email, which is our preferred channel for external communications, and we use the Streak plugin as our CRM.
For internal communications our tool of choice is Slack. It's a great tool by itself and we have powered it up with a very useful giphy bot and 3rd party app integrations. We receive notifications on specific channels when events happen in other apps, so we can keep everything in one place.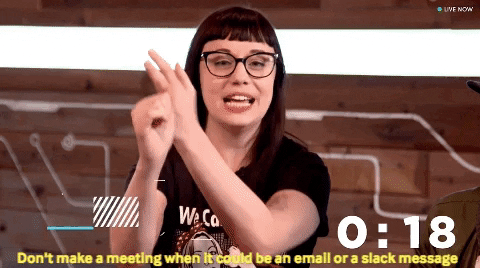 We have a backlog board and a current sprint board in Trello and use labels for projects and work areas. We have 1-week sprints, do daily catch-ups, and have more formal sprint Reviews and Retrospectives every Monday and sprint plannings on Tuesdays.
All of these meetings are generally run in front of Trello. We add retrospective notes and actions decided in a board and, in the backlog and current sprint boards, we review each task before it reaches the "to do" column and is assigned to a person, making sure it's properly defined and ready for work. We use the Story Points add-on to estimate the effort of each task and come to an agreement of an estimation of the effort to do each task. Trello is a super simple, yet super powerful tool.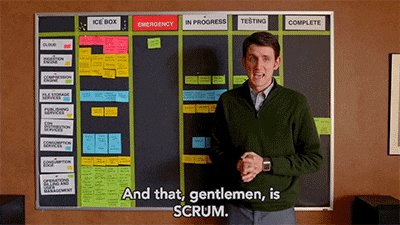 Remote colleagues and anyone in the team is traveling or working from home can join these meetings through our favorite video conferencing tool (at the moment), appear.in.
When work starts, code lives in GitHub and runs on AWS, Heroku, Google Play or the IBM Blockchain. We write clean code, do code reviews and follow BDD, have CI/CD with GitLab since day one in projects and have our conventions documented in a GitHub Wiki.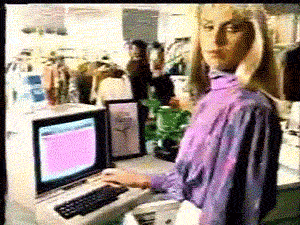 Documents are stored in Google Drive. There, we collaborate on presentations, documents and spreadsheets, and use features like edit suggestions and Explore. Lately, we have also been using Real Time Board a lot for BPMN process diagraming, user story mapping and other activities.
In some cases we need to keep track of time spent on projects, so we use Toggle as a way to automate reports and billing. Speaking of time, we use a shared Google Calendar for meetings, travel and time off.
A lot of these tools are connected between them, but when the integration is not obvious we use Zapier or… we code our own thing. We will be back with more about how we build products out of scratching our own backs, but we hope you enjoyed this post and found some useful tips.
https://media.giphy.com/media/yhcqymRLlv7K8/giphy.gif
How do you organize work within your team? How do you collaborate with clients? What are other useful tools?
Let us know in the comments below and follow us on Twitter to stay tuned!